All developments will be shared with you here
STAG engineering visit Lister Petter manufacturing facility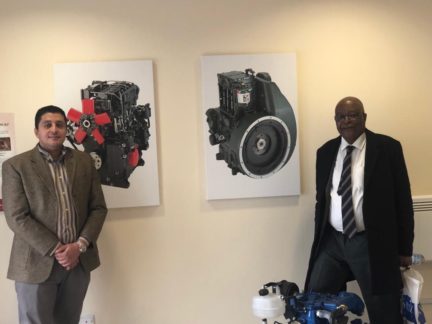 STAG engineering, based in Nigeria, is known as a leading provider of operation and maintenance services for diesel-fired generators, for clients such as Huawei, Globacom, Sheraton, Etisalat and serveral other leading banks, telecommunication companies and a number of hospitals.
Nigeria has seen a growth in GDP in recent years, and is now recognised as the largest economy in Africa. The telecommunications industry alone has over 125 million subscribers.
Mr Alfred, from STAG visited our manufacturing facility in the UK this month. Our strong relationship has led to successful business, with STAG placing larger orders in recent months.
Mr Alfred commented "Lister Petter is one of the preferred brands for telecom companies, for its fuel saving, which is the best in it's class and it's ruggedness, longevity and ease to service."
Having visited our facility Mr Alfred added "I am happy to see the Lister Petter brand is getting stronger than before, and it's pleasing to see it's production and management is 100% British."
For more information about STAG Engineering visit their website – STAG Engineering