All developments will be shared with you here
North South Power SAS, Colombia…an undiscovered history with Lister Petter
North South Power SAS are a supplier of generator sets with facilities in Colombia, Venezula, Isla Margarita and Peru. Lister Petter were recently contacted by them regarding distribution channels. However, the relationship goes back a long way…the gentleman that got in touch with us remembers his father and uncle working at Lister Petter Blakstone in Colombia. His uncle was the Production Manager and his father was Head of Mechanics.
Lister Petter Blakstone stone was established in Colombia over 60 years ago, now called Lister Petter Diesel SAS. The company manufactured, assembled and exclusively marketed the Lister Petter Ltd brand across Colombia. At this time they were marketing a full range of Lister Petter engines, some of which we still manufacture today, the TR and LPW for example.
The connection didn't stop there, after leaving Lister Petter Blakstone, his father and uncle went on to set up workshops authorised by Lister Petter across the Colombian territory for over 30 years.
Now we are in the process of reigniting a connection and building a relationship with North South Power SAS. They said "knowing the durability and quality of Lister Petter we would like to count on you as a supplier and distributor".
Going back in time…here are some original photos of the Lister Petter Blakstone facility and shots of the production line.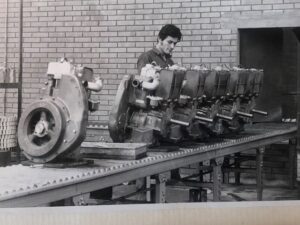 Thank you North South Power, we are looking forward to forging a long lasting relationship across the pond.