All developments will be shared with you here
Introducing a new OEM member in Turkey
Lister Petter are proud to announce that Güçbir Generator, founded in 1980, become OEM for Lister Petter in Turkey.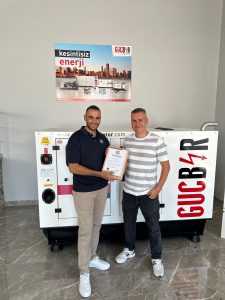 Güçbir Generator sign as an official OEM with Lister Petter.
Güçbir Generator is a leading and reputable company that has achieved remarkable progress since 1980. Increasing production capacity by expanding into two plants, one in Istanbul and one of the biggest production facilities in Zonguldak Turkey.
Specialising in products producing between 10 kVA to 3305 kVA which brings flexibility and customer-based production abilities. For its production capacity, wide range of products; Gucbir Generator is always one step ahead from its competitors in the power generation sector. The Lister Petter 'Starlite' range have been the choice of power for generators up to 75 kVA.
We look forward to working with Güçbir Generator and growing the brand in Turkey.
For more information or to make an enquiry visit their website www.gucbirjenerator.com
#listerpetter #engines #engine #OEM #Güçbir Generator #Generator #power