All developments will be shared with you here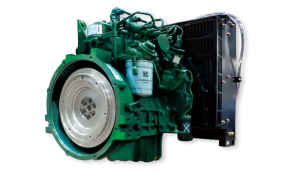 The story of Mr. Lister and Mr. Petter can be traced back to 1865 and 1867 respectively. Lister Petter – world-renowned for more than 150 years.
In order to keep abreast of the latest in global energy consumption, and to bring the brand back to the forefront of engine supply, 2022 saw the introduction of a new line up of diesel engines. Generator specific engines up to 800kW including the first of the EU Stage V engines.
We are proud to introduce the 'Mercury Max' LP311EG1, Lister Petter's first EU Stage V compliant engine. The engine uses Bosch common rail fuel injection equipment and ECU to control fuel delivery to achieve emissions compliance. The 3-cylinder 1.1 litre engine offers exceptional power in a compact package. Other features include High-temp capability radiator for use in ambient temperatures up to 50ºC. Available today in G-Drive configuration, with standard SAE connections.
Lister Petter continues to develop the range of the EU Stage V engines (G-Drive configuration) in 2023 with ratings up to 100kW available by the end of the year. Plans to develop a range of natural/biogas engines are underway with the first of these being available late 2023.