تأسست عام 1865 ، ثلاثة قرون من الخبرة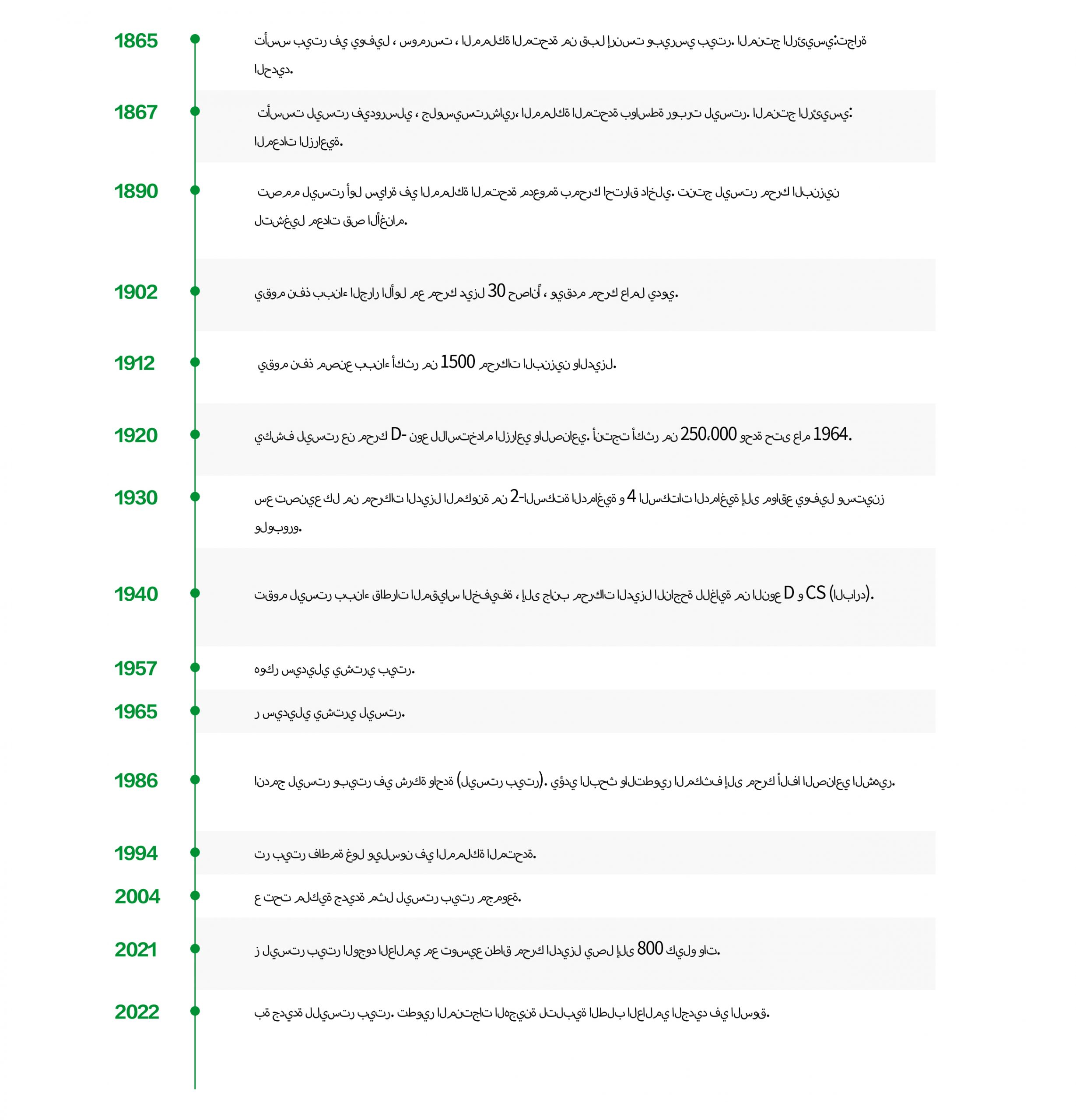 'built on a legacy, focused on the future'
The story of Petter and Lister dates back over 150 years to 1865 and 1867 respectively. Two separate entities manufacturing entirely different products in the agriculture and ironmongery industries.  Both companies soon found themselves at the forefront of their industries, developing innovative products to satisfy the needs of their customers. Constant innovation was at the core of the business for Petter and Lister, and through this drive and determination the first internal combustion engines were produced by both companies by 1902. Petter developed an oil engine for use in the automotive industry whilst Lister developed a petrol engine for agricultural uses. Development of these engines continued for both companies, branching out into different sectors such as rail and power generation throughout the 1900's. Hawker Siddeley acquired Petter in 1957, followed by the acquisition of Lister in 1965.
1986 the Lister Petter company was formed and continued with the tradition of building robust and high-quality engines for industrial uses. The Lister Petter name became synonymous with diesel power within agriculture, electric power generation, and the water pump markets. The brand name was established as a leading force in engine production, globally. 1994 saw FG Wilson take Lister Petter engines and fit them as standard in their world leading diesel generators. The desire to innovate and develop new products continued, with the Lister Petter company drawing inspiration from their customers and feeding this into their engineers; with a single goal of creating world leading products. The commitment to that development remains today. New products are being introduced with technological advancements and innovation to meet the demands of the ever-changing needs of power consumption.
Lister Petter Engine Company emerges in 2022 with new owners and a new line up of generator specific engines. Committed to the legacy of what has been before, and driving forward with new technologies, Lister Petter enters a new era of diverse solutions for today's world power needs. The heritage of the brand is what defines us, and it will contribute to the successes in the coming years.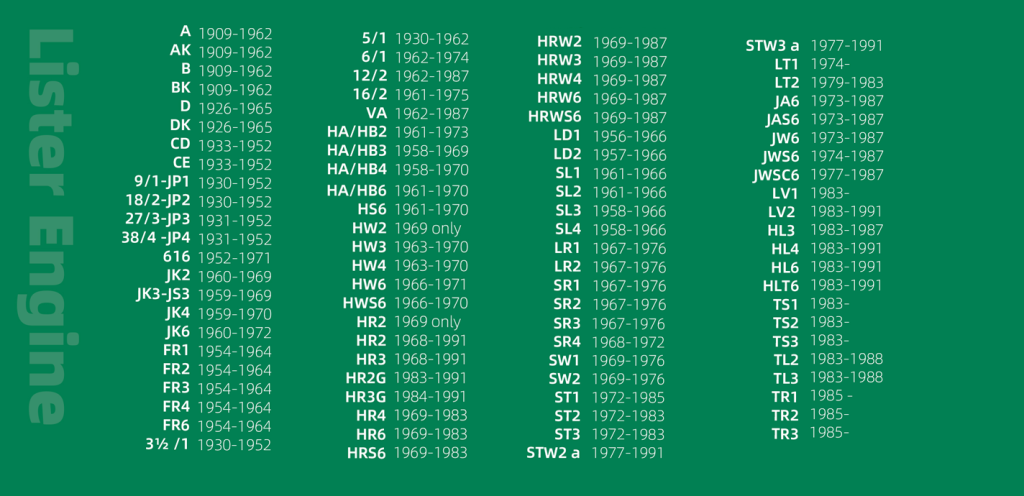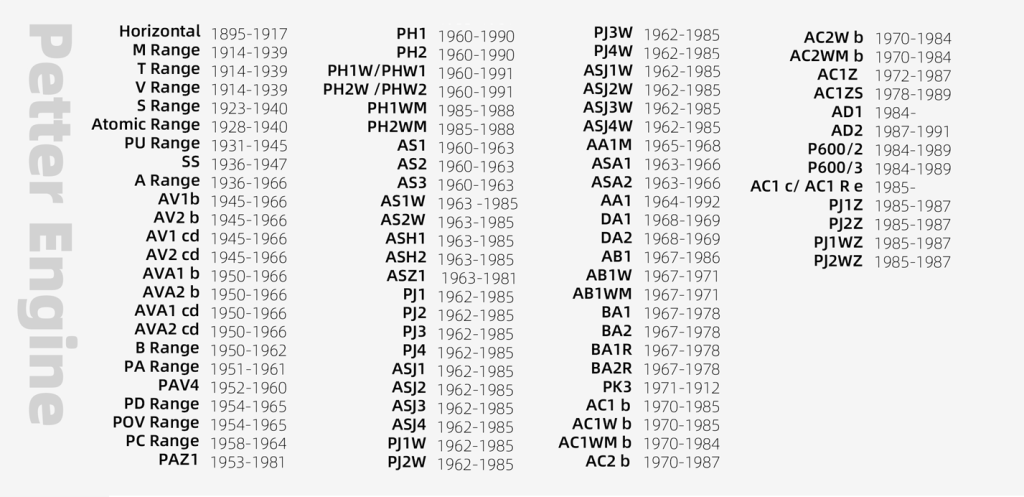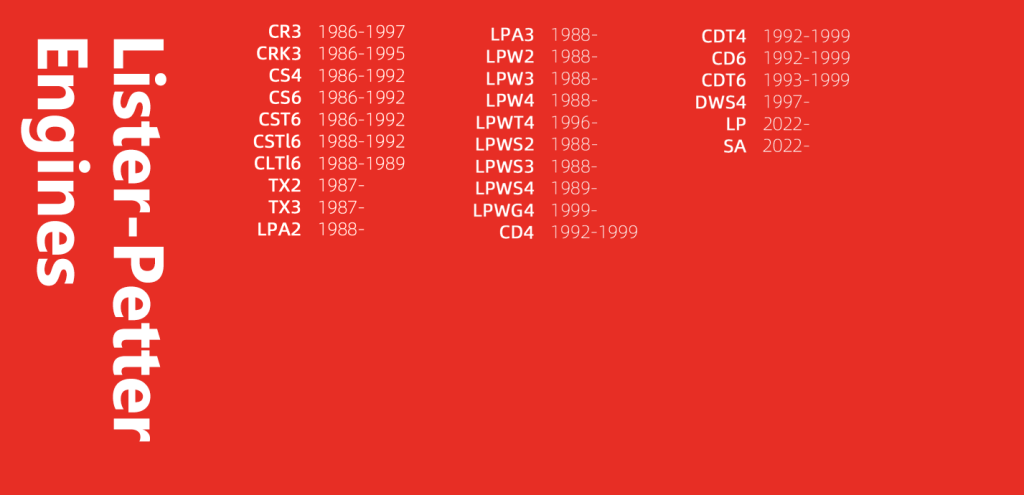 تواريخ إنتاج محرك Lister-Petter 
التواريخ المعروضة هي فترات الإنتاج الرئيسية ولكن بعض أنواع المحركات 
قد يكون قد تم بناؤه / إرساله بعد توقف الإنتاج ولم يتم توضيح ذلك أعلاه.